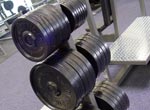 In Taekwondo training, a good Strength and Conditioning program is a vital component to your success, both short and long term.  To gain a better understanding of a proper Strength and Conditioning program we need to understand some of the key elements that is in one.
Firstly as stated in previous articles we need to know what we are training for. What is our goal and what do we need to do to achieve it? Once we know this we can then start to periodize our training.  We cover this in more detail at Taekwondo Training – Periodization I and Taekwondo Training – Periodization II

Then there are different types of training protocols for different training goals. Power lifts use exercises such as clean and jerk, core lifts use exercises like squats and benchpresses and then we have assistance lifts (such as dumbbell curls) which isolate singular muscle types.
There are also other forms of exercises targeting core strength and stability, speed, agility and quickness (SAQ) training and plyometrics for power, speed and strength. In the rest of the article we will investigate the different outcomes of a Strength and Conditioning programme dependant on exercise selection, load, sets and repetitions.
Hypertrophy and base strength
Base strength training does exactly what the title suggests and lays a foundation for further more demanding training later on in the programme. Hypertrophy refers to an increase in muscle size and is what most people think strength training does. There are two different types of muscular hypertrophy: Sarcoplasmic and Myofibrillar.
Basically sarcoplasmic hypertrophy increases the volume of sarcoplasmic fluid in the muscle cell without necessarily any increase in muscular strength (the main aim of bodybuilders).
Myofibrillar hypertrophy increases the number of contractile proteins within the muscle and adds to muscular strength as well as a smaller increase in muscular size (which tends to be the main aim of strength athletes i.e. Olympic weightlifters). This is only one aspect of a sport-specific strength training program and one that should be included for only a select group of athletes for a select part of a programme.
It is important to remember that a larger muscle is not necessarily a stronger muscle and that nutritional diet is also another major factor influencing hypertrophy. Hypertrophy and base strength is generally trained by using a load in the 65-85% one repetition maximum (1RM) range, using in between 6-12 repetitions (with 30 to 90 second rest intervals) and sets of 3 to 6.
Maximal Strength
Maximal strength is the highest level of force an athlete can possibly generate. This type of strength training is vitally important for a Taekwondo athlete as the greater the athlete's maximal strength to start with, the more of it can be converted into sport-specific explosive power.
Maximal strength training can be used to improve exercise endurance and does not appear to lead to a significant increase in muscle size if any at all. Maximal strength is generally trained by using an 85% + 1RM range, using around 6 repetitions (with 2 to 5 minute rest intervals) and sets of 2 to 6.   
Explosive Power
Rarely is a Taekwondo athlete required to produce a singular maximal effort in the ring. With the exception of powerlifting, most sports require movements that are quick and demand a higher power output than is generated during maximal lifts.
So while maximal strength training lays an important foundation increasing the potential for additional power development, if there is no conversion of this strength into sport-specific power, the programme as a whole is much less effective.
A Taekwondo athlete can be exceptionally strong but lack substantial power due to an inability to contract muscle quickly. Power training is used to improve the rate of force production and a range of methods such as plyometrics and power lifts (snatch/clean and jerk) can be employed to convert maximal strength into explosive power.
Power training can be split into two categories: singular and multiple efforts. Singular power efforts use loads in the 80-90% 1RM range, using 1-2 repetitions (with 2 to 5 minute rest intervals) and sets of 3 to 5. Multiple power efforts use loads in the 75-95% 1RM range, using 3-5 repetitions (with 2 to 5 minute rest intervals) and sets of 3 to 5.
In the next few weeks, we'll be covering some of the best exercises you can do for Taekwondo training using this information so that you can be the best you can be.
Let me know any questions you have about this, and any other part of Taekwondo Training, below, and I'll be happy to help with them. 8)