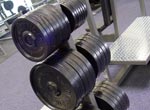 One of the best exercises a Taekwondo athlete can use in the gym as a part of their Strength & Conditioning program (and again even pretty much all year round!) is the flat benchpress.
In our last Strength & Conditioning articles [ Taekwondo Strength Training Basics – The Back Squat and Taekwondo Strength Training Basics – How To Perform The Back Squat ] we covered the Squat, it's benefits and then how to do it. In this article I'm going to cover the Benchpress and in the following article, I will cover how to execute it best.

There are many variations of the benchpress movement and the flat benchpress is what is regarded as the 'classical' all round movement for lifting with your arms. In the rest of the article I will discuss how the benchpress movement works and what benefits you gain from performing it.
The benchpress is an excellent 'all round' upper body movement. It uses most of the major muscle groups of the front of the chest, namely the pectorals (major and minor), the deltoids (anterior), the triceps brachii (medial, lateral and long heads) the seratus anterior and the coracobrachialis all of which are major muscle groups utilised by Taekwondo athletes whilst punching straight. The benchpress has an excellent stabilising movement of the biceps brachii muscles and elbow joints and uses your core muscles to stabilise your torso too.
The benchpress itself actually replicates one of the most common martial arts techniques used in the world: the punch. Although punching has never really been of great importance within Taekwondo competition in the past, due to the use of new electronic hogu systems, now more than ever, punching has become a really useful tool to score points.
The biomechanics of the movement are distinctly similar to the punch in terms of extending and flexing the elbow joint and the powerful driving force of the pectoral muscles to complete the lift. The flat benchpress can be used to nurture a whole host of athletic abilities most namely flexibility, hypertrophy (muscle growth), strength, explosive power and speed. These variables are dependant on how the movement is performed and sets, repetitions, load, intensity etc.
If you have any questions about Stength & Conditioning or Strength Training at all, just let me know. Put them in the comments box below. If you have any comments at all, you can also put them in the box below. Let us know you're alive! 🙂