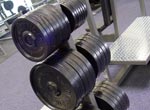 One of the best exercises a Taekwondo athlete can use in the gym as a part of their Strength and Conditioning program (and even pretty much all year round!) is the back squat.
There are many variations of the squat movement and the back squat is what is regarded as the "classical" all round movement for lifting with legs. Here I will discuss how the squat movement works and what benefits you gain from performing it.

The squat is an excellent "all round" lower body movement. It uses most of the major muscle groups of the lower extremity namely the quadriceps (vastus lateralis/intermedius/medialis and rectus femoris), the hamstrings (biceps femoris long/shorts heads, semitendinosus and semimembranosus), the gluteals (maximus, medius and minimus), the abductors (tensor fascia lata) the adductors (longus, magnus, brevis and pectineus) and the hip flexors (ilcius and psoas major or iliopsoas) all of which are major muscle groups utilised by Taekwondo athletes whilst kicking in most planes of movement. The squat is an excellent stabilising movement of the calf muscles and ankle joints as well as working stabilisation of the core muscle groups within the torso.
The squat itself actually replicates one of the most common Taekwondo techniques used within competition: the back kick. The biomechanics of the movement are distinctly similar to the back kick in terms of extension and flexion of the knee joint and the powerful driving force of the gluteal muscles to complete the lift. The back squat can be used to nurture a whole host of athletic abilities most namely flexibility, hypertrophy (muscle growth), strength, explosive power and speed. These variables are dependant on how the movement is performed and sets, repetitions, load, intensity etc.
In the next article [Taekwondo Strength Training Basics – How To Perform The Back Squat] I will go through in detail how you do the back squat for best results.
Let me know what you think of this article in the comments box below. And as always, let me know your Strength training questions. 🙂